Our yard stocks more than 200 vehicles EVERYDAY that includes cars, trucks and buses all the time. We only stock good quality vehicles with low mileage. All of our vehicles are ready to go at anytime. Our car yard is one of the largest in the region. Please see our yard and the location at
about company
.
If you wish to visit our yard in Japan, please feel free to contact us, we are happy to arrange a business tour for you.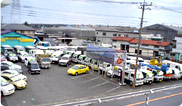 We have full access to ALL the dealer auctions in Japan. Auctions are held everyday all over Japan. These cars sold at the auctions are very cheap. Cars are from $50USD (Honda CR-V 97model) and we charge a small agent fee. If you are looking for a specific car please contact us, we guarantee to find you the best one. We also offer free auction access direct from our website. Please click GAO Auction below and log in at
Please go to
Auction Access
for more information

(GAO Login Id : V00208)
If you need to replace a part from your imported car and need spare parts please use our easy and fast spare parts order service (link) We are able to supply new and used parts with low prices and if the item is under 20 kilograms/44pounds we are able to use our express international shipping and it only takes (from) two (2) days.

Please go to Spare Parts for more information.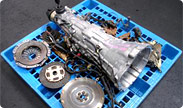 Towing Truck Car Carrier & Transportation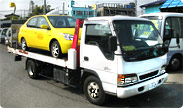 We own much different kind of trucks for the transportation of your vehicle. We have a Single towing truck, Car carrier and Container truck. While many other exporters have to call a transport company to move the products, however as we have our own trucks we can save your money and time by taking your vehicle to the port.
Our experienced and skilled service motor mechanics are able to do all the vehicle work before it leaves Japan. From your request we can do servicing, change spare parts, modifications, bodywork or any other car work. We do offer FREE mechanical checks and engine service for all cars we sell and export.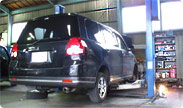 All our vehicles have passed JEVIC inspections and our location is very close to the inspection site. If you need the certificate for your local government importation requests please feel free to contact us. For more detail of JEVIC certificate please visit
www.jevic.com/jevic_english/

To ensure the quality of used vehicles for export, the Japan Auto Appraisal Institute (referred to hereinafter as JAAI) offers an inspection service, according to the procedures and guidelines described in this link.
Download pdf for JAAI Inspection
Custom Brokerage, Steam Cleaning & Exportation Work
Our licensed custom broker is able to organize booking the vessel for the shipping, all the documentation work, translation, and steam cleaning for some countries quarantine requests.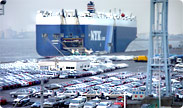 All our export staff able to speak English and have experience in the motor industry in English speaking countries.We are very friendly and please feel free to ask ANY questions that you may have.